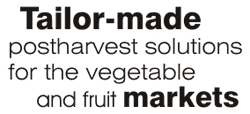 Unitec Refrigeration Services is a South African based company that specialises in post harvest cooling solutions for the flower, fruit and vegetable industry.
Since 1990 Unitec has made it a priority to know and understand the post harvest market in order to offer the best advice and solutions to our clients.
Our clients are made up of growers, packers and exporters, be it for the fresh produce market, the retail chain stores or cold storage facilities at airports.
We offer a full line of precoolers including HIGH HUMITITY COOLERS, HYDROCOOLERS, VACUUM COOLERS, FORCED AIR COOLERS along with COLD STORAGE. See more on our products here.
In fact we can design, supply, install and maintain pack-house facilities be it in Cape Town, South Africa or Naivasha, Kenya.
Our business is to assist you in becoming more competitive by way of precooling equipment... designing refrigeration systems to meet your specific needs.
Our Vision

To be recognised globally as the leading provider of innovative, quality produce handling equipment and be renowned for our commitment to excellent customer service.


Our Mission

At Unitec our aim is simple, to deliver tailored post-harvest cooling solutions through a conceptual understanding of the cooling requirements, deliver the best solution built with the best equipment and technology available - standardly and to offer convenient after-sales services and maintenance of our supplied equipment to enable maximum up-time to all our clients, in and around the South African markets.

Our Approach
Since our inception, Unitec has helped customers maximise the value of their produce.

Whether you are a grower, pack house operator, shipper or packer, we can assist you to…
Take your time to look through our website and feel free to make contact with or enquire about anything.
Cold store at the Fresh Produce market, Johannesburg
Vacuum cooler for lettuce grower and packer
480 Kw Hydrocooler plant for carrot grower